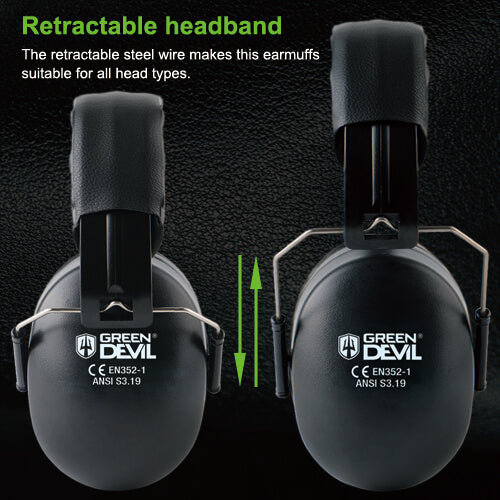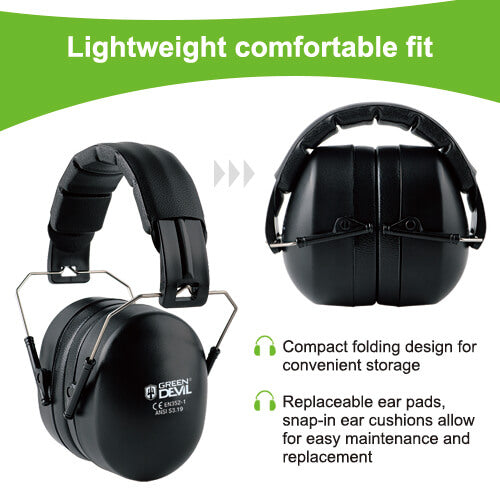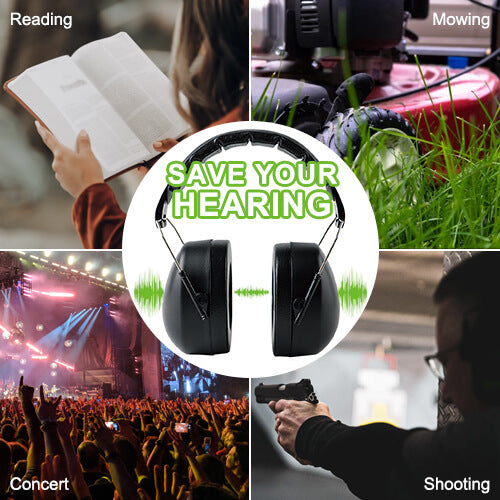 GREEN DEVIL Hearing Protection Noise Canceling Safety Ear Muffs NRR 28dB Black
Shipping Time: 3-7 Business Days
【Better Noise Reduction And Noise Resonance】 : Built with professional noise dampening foam,tightly-sealed material and a premium quality shell.Earmuffs hearing protection provide a high NRR-up to 28dB, SNR-up to 32dB,protecting the ear from damage caused by loud equipment, machinery,or sharp,repetitive noises etc.
【Adjustable Headband Comfort Design】: Can be flexibly adjusted to suit various sizes,cover all big&small heads,one size fits all. High quality adjustable double-deck padded headband design ensures that it fits firmly and comfortably around your head.
【Widely Application】: GREEN DEVIL noise reduction safety ear muffs can be used as a perfect ear protection for lawn mowing,shooting, hunting, gun range, racing, reading, concert, studying,traveling and operating machinery to protect hearing,suitable for landscaping work construction manufacturing maintenance automotive woodworking heavy engineering mining and industrial use .Also can be noise canceling headphones for autism to solve sensory problems.
【Lightweight And Easy Storage】: Compact folding design small volume for easy storage.Comes with a carrying pouch, you just need to fold it up and put it in wherever you keep your hearing protection ear muffs.
【Professional &Reliable & Durable 】:GREEN DEVIL hearing protection ear muffs certified by ANSI S3.19(American National Standards Institute) & CE 352-1(European Standard) .High Noise Reduction Rating hearing protection ear muffs are one of the best ways to protect your hearing from damage.We offer professional ear protection PPE, also offer 100% satisfaction and a 30 day money back.


Why Do You Need These GREEN DEVIL Hearing Protection safety Ear Muffs ?
Loud noises can cause permanent hearing loss and even accelerate the process of becoming deaf. The need for hearing protection is often misunderstood and underestimated. Noise levels above 125 decibels for even short periods of time, can cause permanent hearing loss. When exposed to these decibels for longer periods of time the effects are even worse.
Whether you are working in a manufacturing plant, construction site, airport, operating heavy machinery,Maintenance, Automotive, Woodworking, Mining, shooting or hunting,it is important to have high-quality ear muffs to protect your ears.
GREEN DEVIL high Noise Reduction Rating (28dB NRR) Ear Muffs are one of the best ways to protect your hearing from damage.
When To Use Our Safety Ear Muffs?
GREEN DEVIL ear protection muffs reduce loud sounds from outside to a more convenient level. You will still be able to hear what is going on around you but you can rest assured your hearing will not be permanently damaged! We advise to use them when you are surrounded by sounds with a higher dB level than 85. (example; when mowing the lawn, being at a construction site, shooting, etc.) Premium Industrial 
Grade Quality

 

Our Ear Muffs are designed to work in harsh environments. We use the highest quality materials: proprietary noise dampening foam, solid single cup design.

Great Comfort

 

When wearing our Ear Muffs you'll find that our headband uses ½" of padding with synthetic leather (which is easy to clean) and very comfortable. The -over-the-ears Ear Muffs are a definite snug fit, each cup tilts and swivels for a custom fit and the foam cushions add comfort and a secure seal around your ears. With adjustable pins to fit each head size from large to small.
More Details
GREENDEVIL safety ear muffs can be used as a great ear protection for shooting, hunting, mowing, welding, woodworking, sports events, concerts,traveling, studying , operating and more .
Shipping
Yes, we ship all over the world. Shipping costs will apply, and will be added at checkout. We run discounts and promotions all year, so stay tuned for exclusive deals.
It depends on where you are. Orders processed here will take 5-7 business days to arrive. Overseas deliveries can take anywhere from 7-16 days. Delivery details will be provided in your confirmation email.
Other
You can contact us through our contact page! We will be happy to assist you.