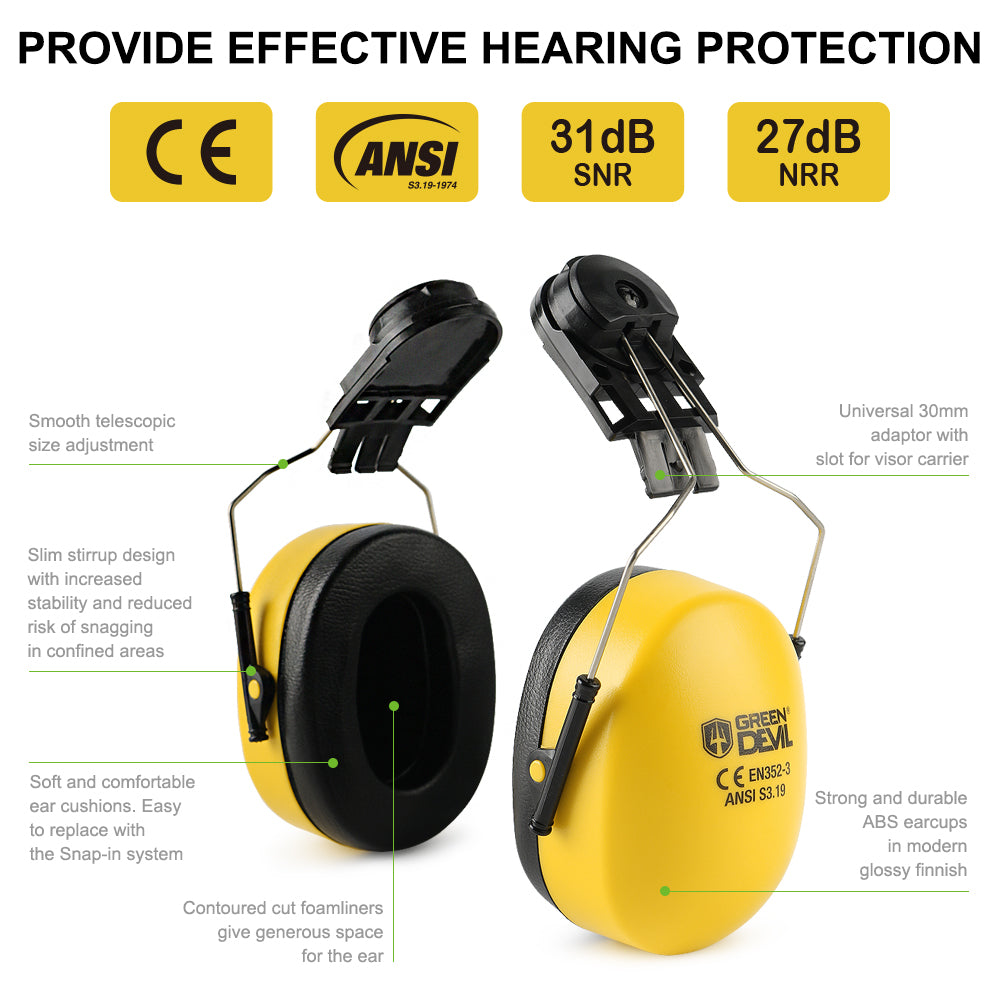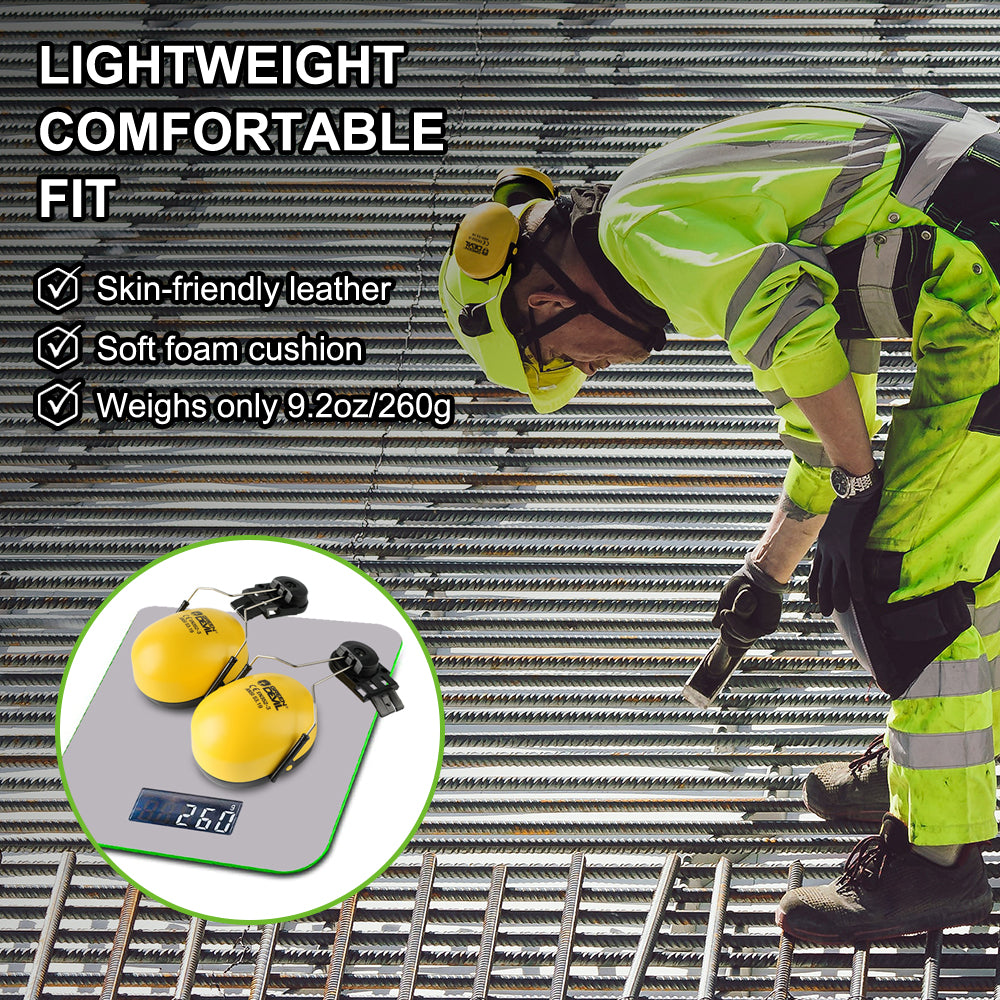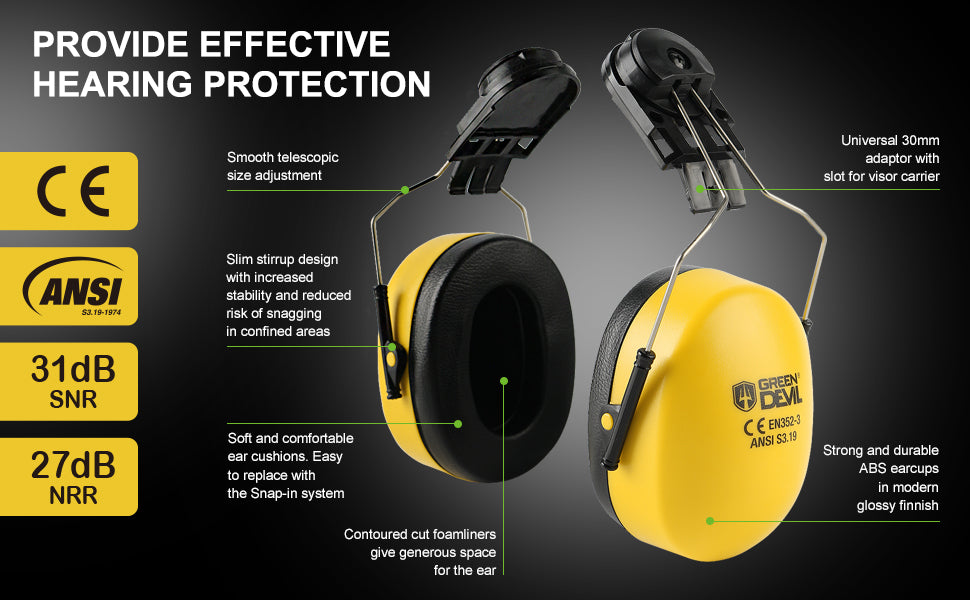 GREEN DEVIL Safety Helmet Mounted Ear Muffs Helmet Attachment Yellow Ear Muff NRR 27dYellow
Shipping Time: 3-7 Business Days
【27db Noise Reduction Rating】:GREENDEVIL hard hat attachment earmuff offers a SNR 31dB / NRR 27dB (Noise Reduction Rating) for our hearing protection.Providing existing protective gear with a superior level of hearing protection to help complete comprehensive above-the-neck safety systems.Help reduce exposure to hazardous levels of noise,ideal for protection against noise arising from a wide range of applications in the workplace.
【Comfortable And Easy To Install】: Ergonomic headband with soft padding reduces the pressure on your head for superior comfort. Generous space inside the ear cups ensure breathability meanwhile soft imitation leather provides a tight sound-proof seal .The cap-mount design allows for easy use with hard hats with accessory slots.Insert the earmuff mounting adapter into the sockets on both sides of the helmet at an OBLIQUE ANGLE until it clicks into place.
【Fits Most】: Compatible with most Safety helmets (NOT for Full Brim Hard Hats).Designed with retractable stainless steel at the cap-mount Earmuffs, the ear muffs can be adjusted to fit all sizes.Earcup pivot points tilt for a fit that is customized to each person who wears the earmuffs.
【Examples Of Typical Applications】: General industry, manufacturing, repair and maintenance, construction, oil and gas, forestry, shipbuilding, and mining. confined space, sanding/grinding, power tool use, occupations with non-impulse noise, demolition, assembly, and more,like chipping, chiseling, drilling, furnace operations, grinding, heavy equipment operations, machining, pouring/casting, power fastening, riveting, sanding, sawing, and welding.
【Safety & Compliance】: GREENDEVIL hard hat attachment ear muffs are approved by ANSI S3.19-1974 and EN352-3 and meets all applicable OSHA regulations.If you have any questions, welcome to reach us.We offer 100% satisfaction and a 30 day money back guarantee.
Why Do You Need These Green Devil Noise Cancelling Hard Hat Attachment Ear Muffs ?
Loud noises can cause permanent hearing loss and even accelerate the process of becoming deaf. The need for hearing protection is often misunderstood and underestimated. Noise levels above 125 decibels for even short periods of time, can cause permanent hearing loss. When exposed to these decibels for longer periods of time the effects are even worse.
Whether you are working in a manufacturing plant, construction site, airport, operating heavy machinery,Maintenance, Automotive, Woodworking, Mining, shooting or hunting,it is important to have high-quality ear muffs to protect your ears.
GREEN DEVIL high Noise Reduction Rating (27dB NRR) Helmet Cap-mounted Attachable Earmuff are one of the best ways to protect your hearing from damage.
User Instruction
Shipping
Yes, we ship all over the world. Shipping costs will apply, and will be added at checkout. We run discounts and promotions all year, so stay tuned for exclusive deals.
It depends on where you are. Orders processed here will take 5-7 business days to arrive. Overseas deliveries can take anywhere from 7-16 days. Delivery details will be provided in your confirmation email.
Other
You can contact us through our contact page! We will be happy to assist you.